FLAC to MP3 Converter – Convert FLAC to MP3 in few Clicks – Free Online Download
Convert flac audio files between a wide range of formats! Back up Audio CDs into lossless FLAC, space-savvy MP3 or any other audio format of your choice. FLAC to MP3 Converter comes with a built-in CD ripper, delivering an all-in-one CD ripping and audio format conversion solution in a single easy-to-use tool.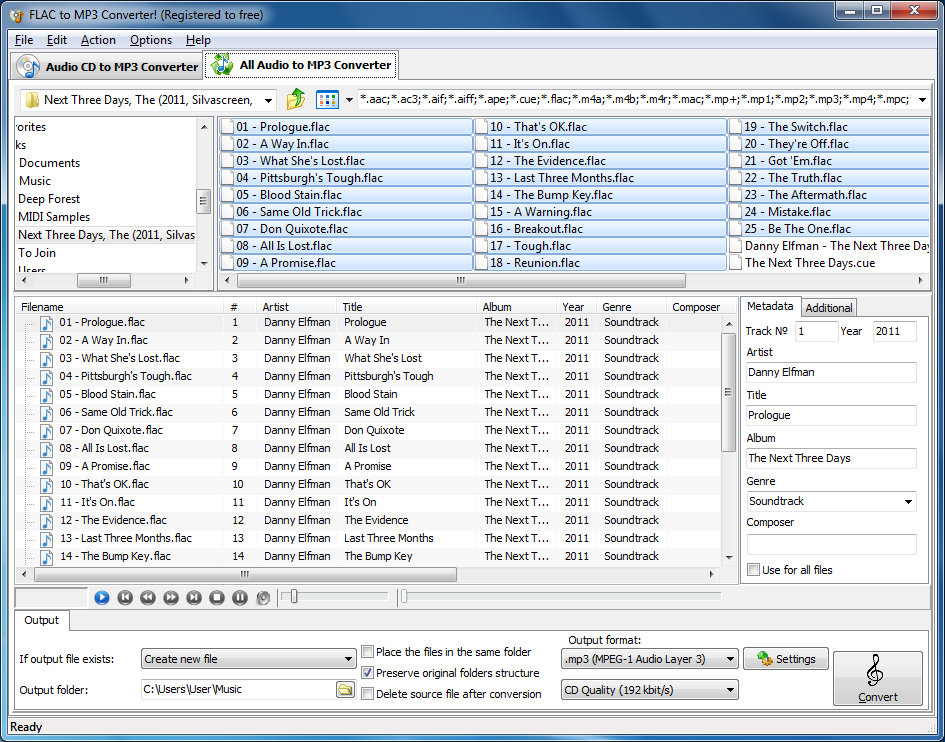 Convert Audio Formats
FLAC to MP3 Converter support the widest range of input and output audio formats including AAC, MP3, FLAC, OGG, and over a dozen others. It can take any number of files in any supported formats, and produce files in a format, bitrate and compression of your choice. You can convert FLAC files to MP3's, or turn a bunch of WAV files into OGG, or perform any other conversion depending on what your target device accepts.
Flac To MP3 Batch Audio Conversion
If your smartphone or portable audio player requires a certain file format, you can quickly convert the entire collection to that format with just a few clicks. Even if your music collection is scattered among a dozen different file formats, you can quickly turn the entire folder full of audio files into a set of MP3's, AAC, or other file formats: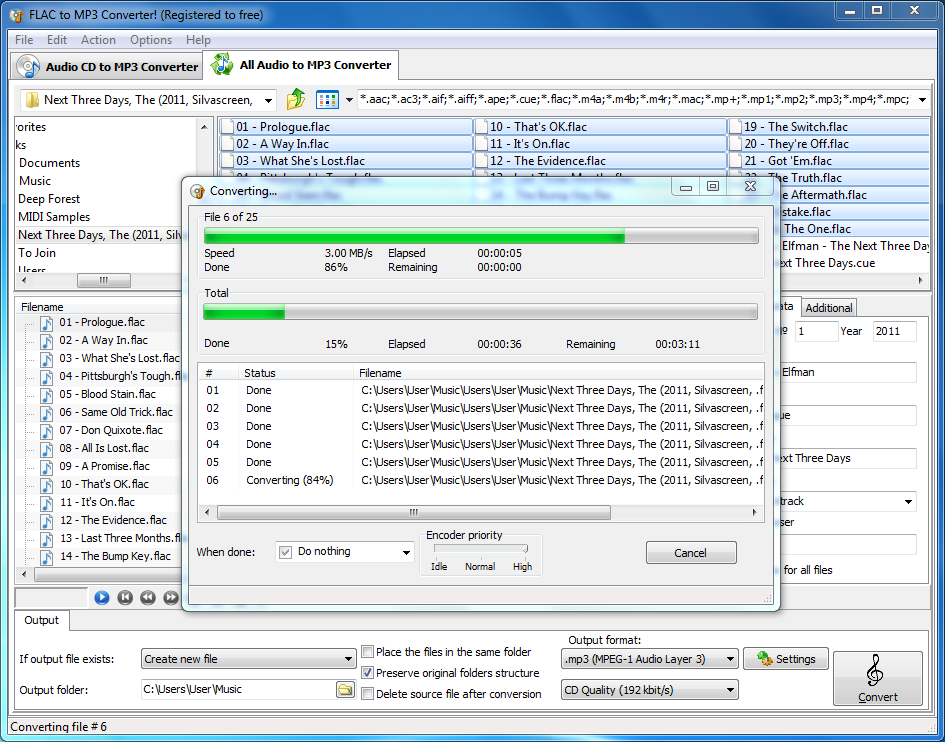 Back Up Audio CDs with Built-in CD Ripper
FLAC to MP3 Converter comes with a built-in CD ripper, allowing to back up audio CDs or creating a perfect copy for enjoying the music on the go. You can rip CDs into lossless FLAC files, AAC, MP3, or any other audio format directly. FLAC to MP3 Converter automatically saves files in the format of your choice on the fly with no huge temporary files stored on your hard drive.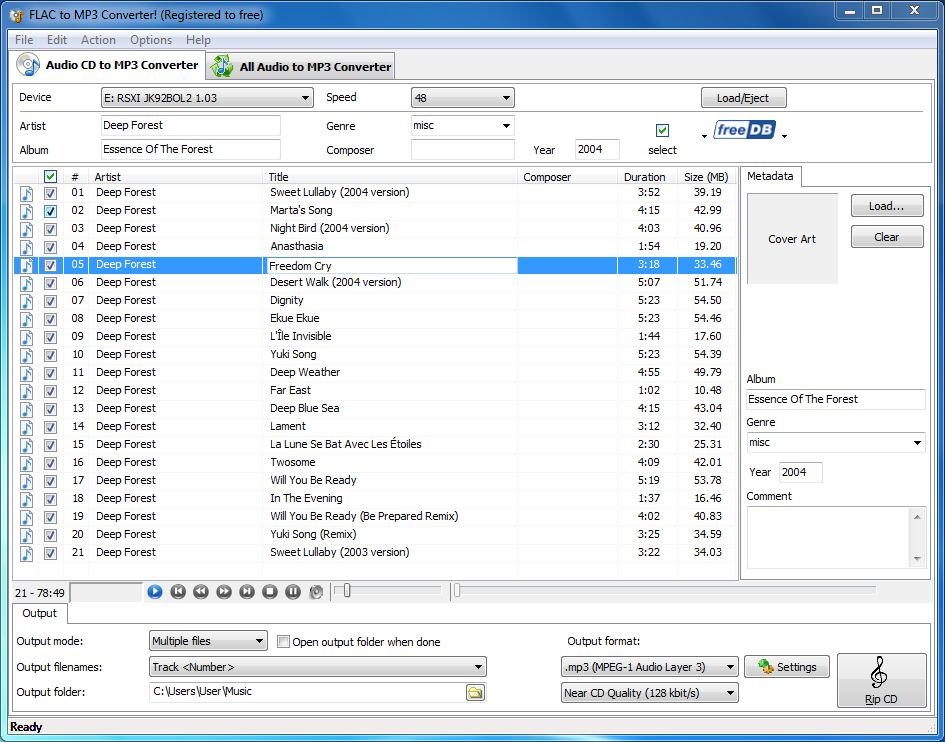 Backing up Audio CDs is easy. Simply insert the disc, and FLAC to MP3 Converter will obtain track information from the Internet completely automatically. The tool supports the Free DB music database, automatically obtaining the artist, album and track information from the Internet.
Features:
Real-time FLAC conversion with no temporary files
All-in-one CD to FLAC ripping and FLAC conversion solution
Easy to use interface with drag-and-drop
Batch audio conversion
Supports MP3, MP4, WMA, WAV, FLAC, AAC, M4A, OGG, AAC, AC3, AIFF, APE, CUE, MP+, MP1, MP2, MPC, MPP, OFR, 3GP, 3G2, OFS, SPX, TTA, WAV, WMA, WV, and ALAC formats
Downloads track information from Free DB
Built-in audio player and tag editor
Preserves original ID3v1, ID3v2, Ogg/FLAC, WMA, and APE tags
Supports MOD Music (XM, IT, S3M, MOD, MTM, UMX)
Supports Apple Lossless Audio Codec (ALAC)